Getting Started
Click "Sign Up" on the navigation bar to create your free account and get started with URI Prep And Ship.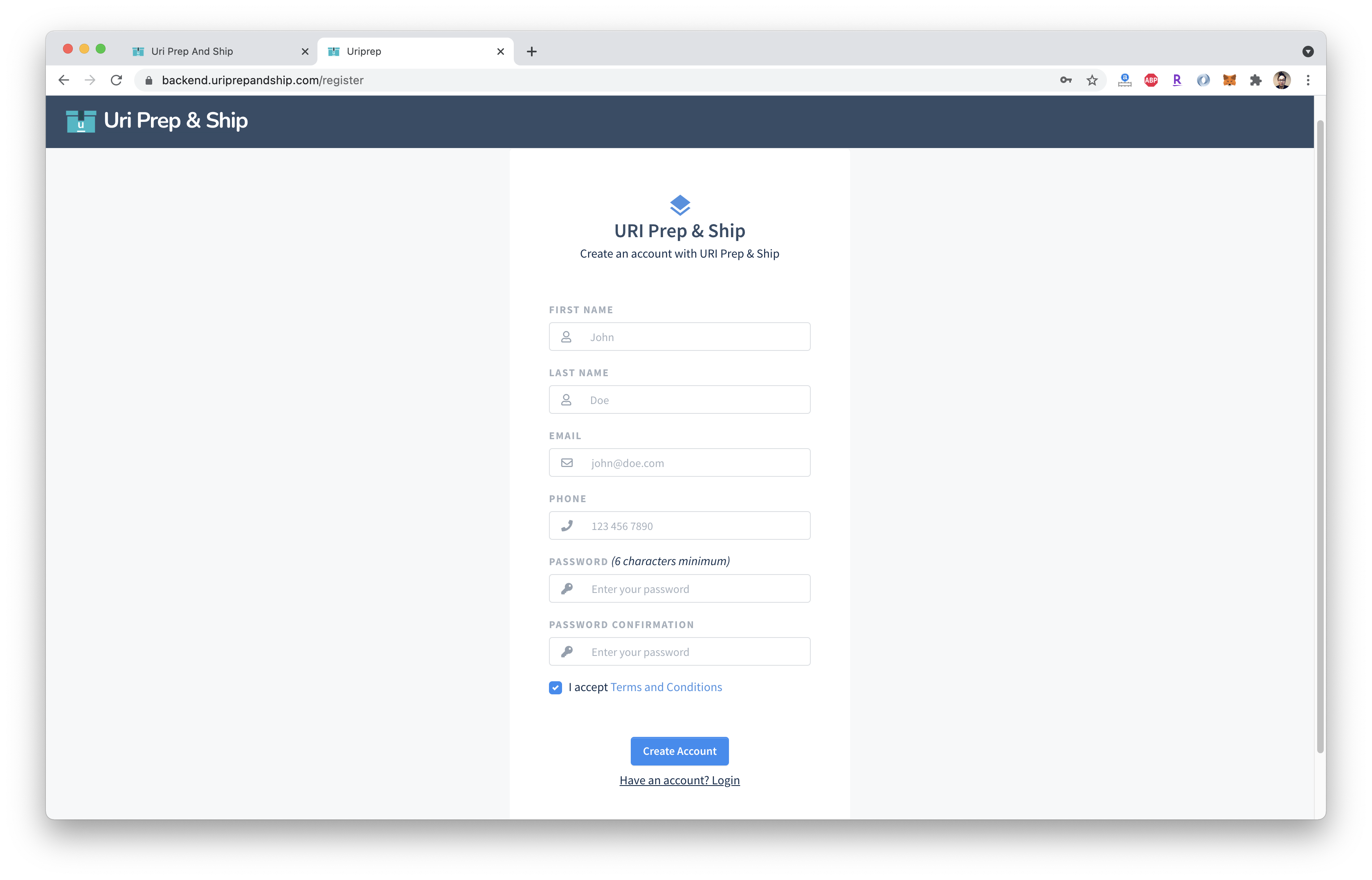 Enter all the details on the page (Email, First Name, Last Name, Phone, Password And Password Confirmation) and click "Sign Up".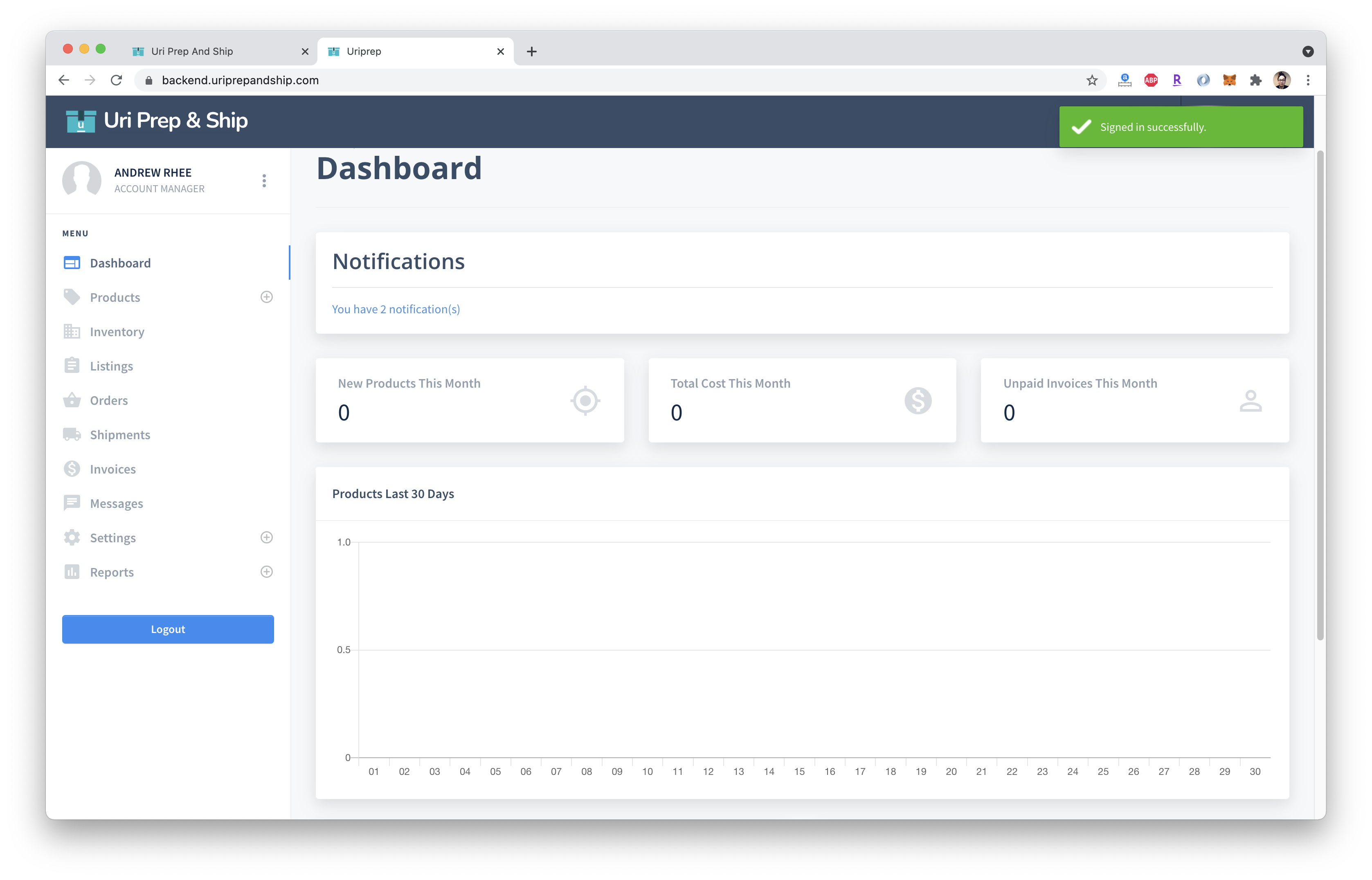 Once you log in, you'll be redirected to your own personal dashboard. Here you can see all products that you've sent in, products shipped out, total prep costs, And unpaid invoices.
Please email us at uriprepandship@gmail.com for any questions you may have.
Adding A New Product
First thing you're going to want to do is click "Products" on the left sidebar and then click "Add Products" to add new products that you want us to prep and ship for you. Here enter the Product Name, Product Category, Asin, Dimensions, Product Type, SKU, and Quantity for the product that you want to send in.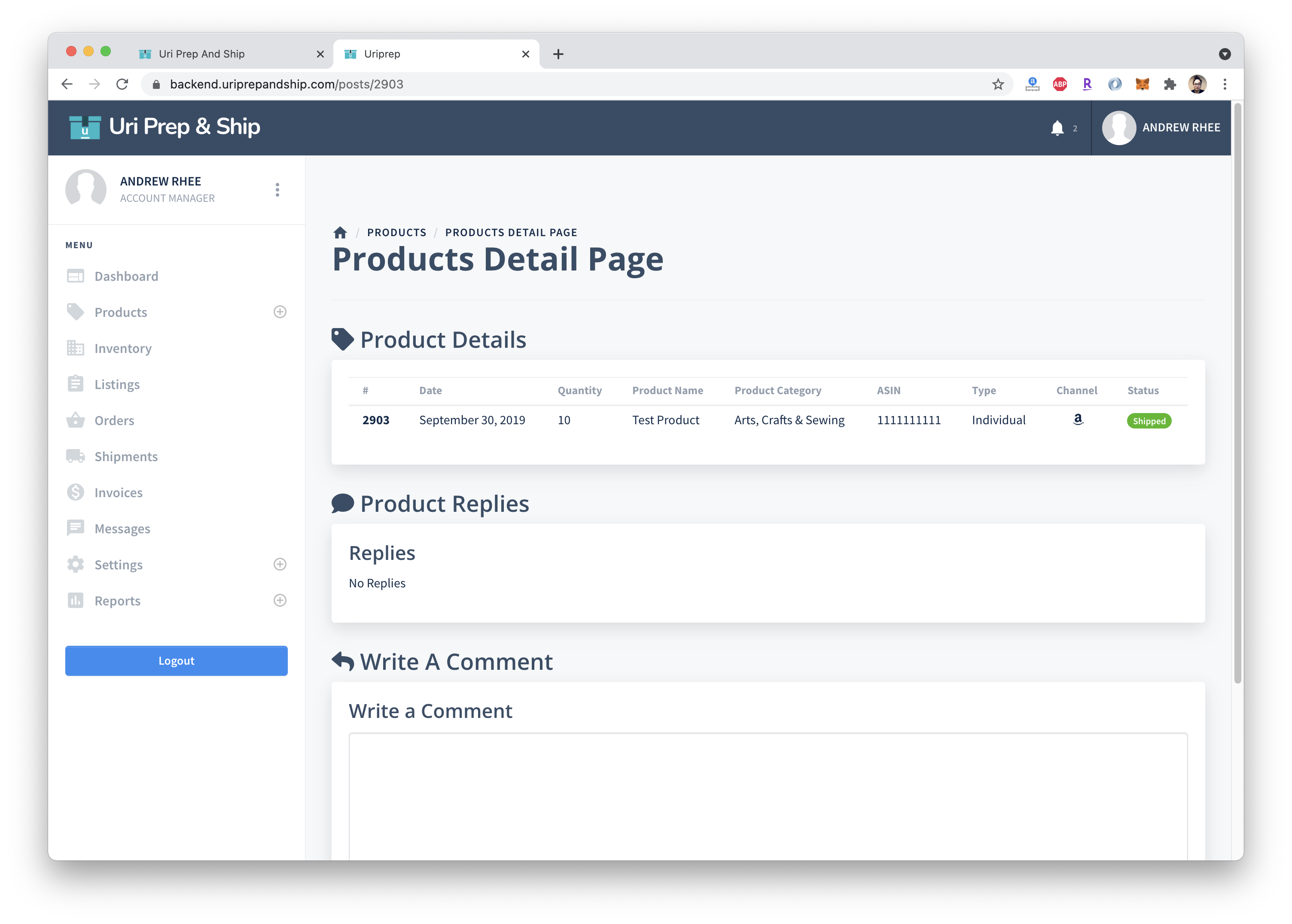 Once you add the product, you'll be redirected to the product entry details page. Here you can see all the details of the product you just sent in, including the latest status of the product. By default it will be set to "Submitted". Once we receive your product at our prep center, the status will be updated to "Received". When your product gets shipped out, the status will be then updated to "Shipped".
If for any reason there are any issues with your product when received, the status will display "Returned".
Checking On Statuses Of Shipments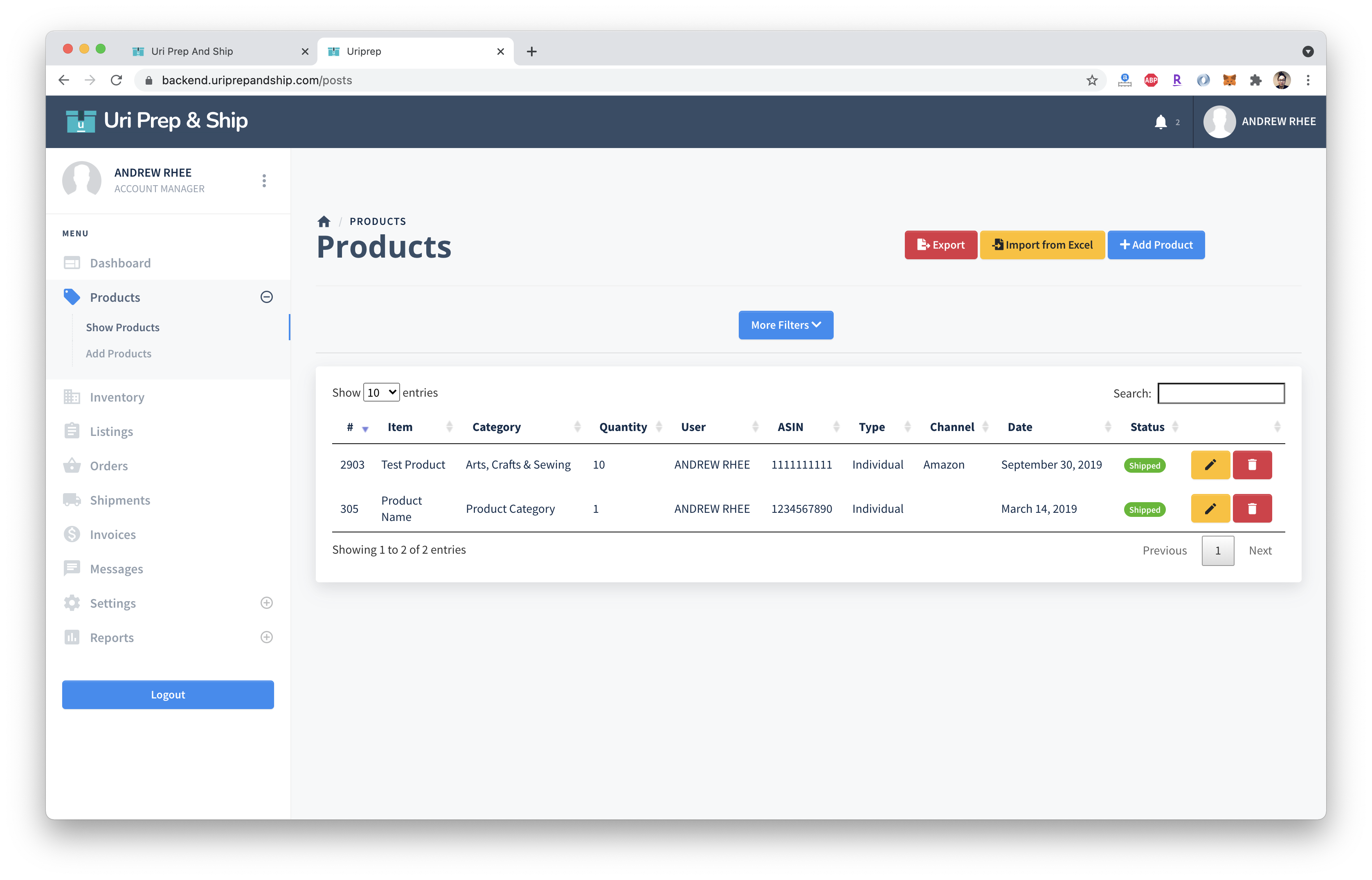 Click "Product Entries" on the left navigation menu on the left side of the Screen. It will take you to a product entry index page where it shows all the latest shipments you have sent in. Here you can quickly Edit, Delete And Check On Statuses of all shipments.
There are 4 different types of statuses that may show on your product detail page:
Submitted - the default status when you first submit a product entry
Received - the status that shows when one of our warehouses receive your product
Shipped - the status that shows when our warehouse has shipped out your product
Returned - the status that shows when one of more of your products have been returned
Paying For Your Reservation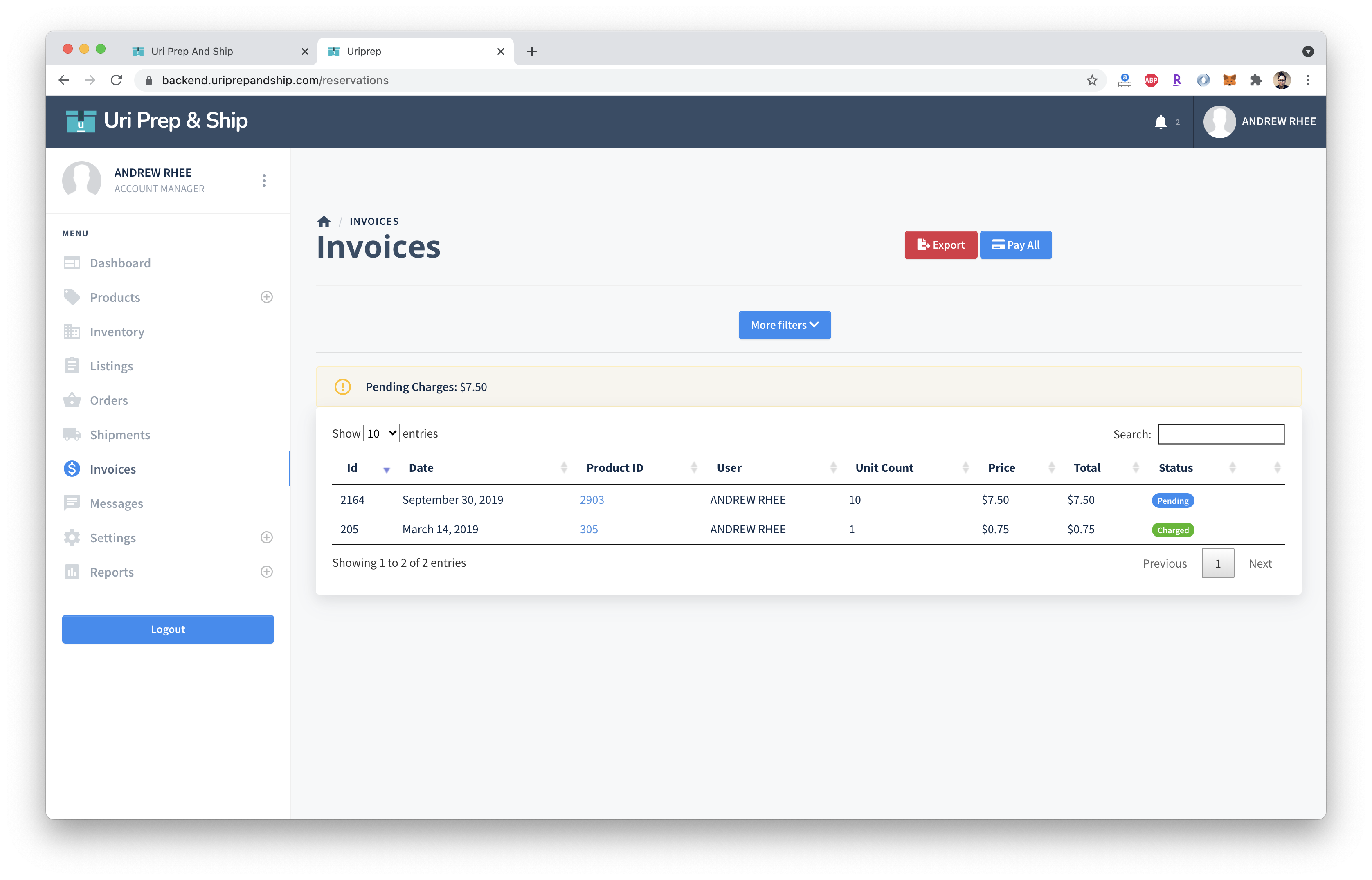 When you create a new product entry, the system will also generate a new invoice for you automatically. Click invoices on the side navigation menu to see all your invoices.
Here, you will see the latest entry that you just created. You can go ahead And click "Pay All" to pay for your pending invoices.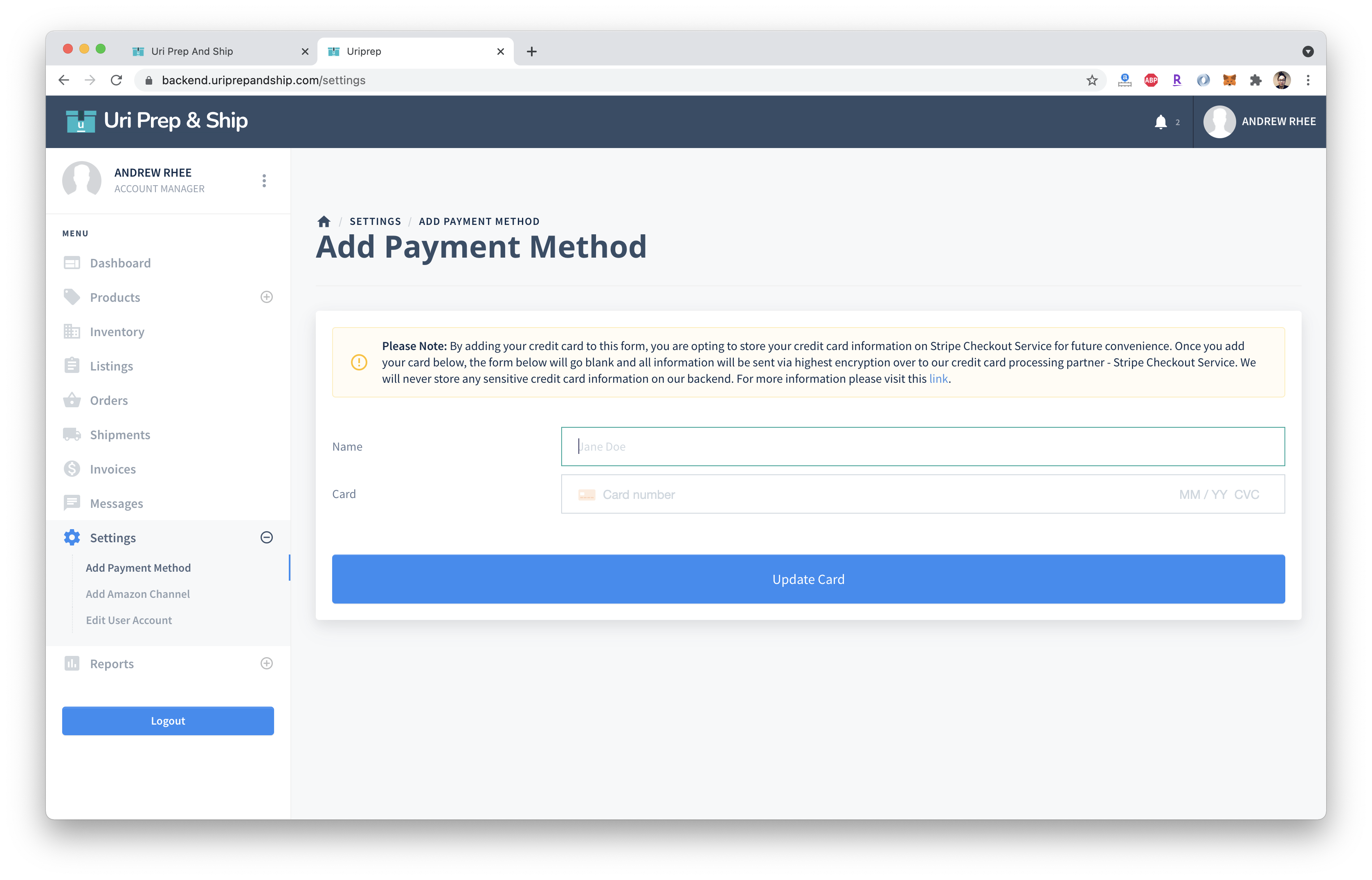 If this is your first time logging in, the system will automatically redirect you to add a credit card with our system.
On this screen, go ahead and enter your Full Name, Credit Card Number, Expiration Date, And CVC and click "Add Card". Once your card is verified, the system will show you a notification letting you know the card has been successfully added to our system.
Go back to the invoices page, and click "Pay All". This time the charge should go through.
Thank you so much for chosing URI Prep And Ship as your trusted Prep Center. We look forward to earning your business and trust. If you have any questions, please email us at uriprepandship@gmail.com.
You can also contact us via WhatsApp: +1 (770)367-5569
Trusted By Over 500+ FBA Business Owners
Fun Facts About Our Agency
20,000+
Customer Service Hours
Meet Our Team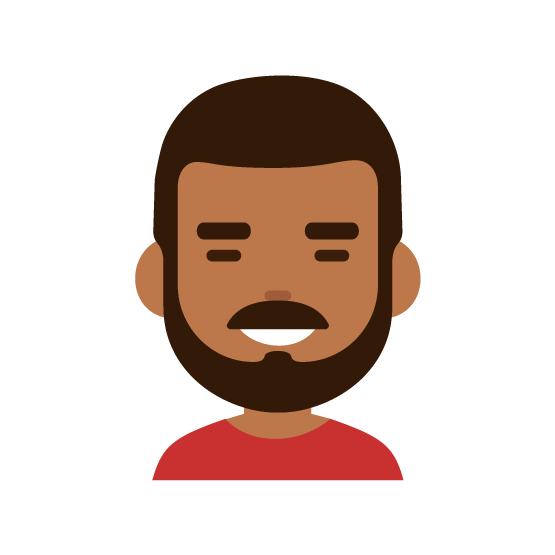 Ash Patel
Ash is our co-founder and has been leading the operations team for over 3 years.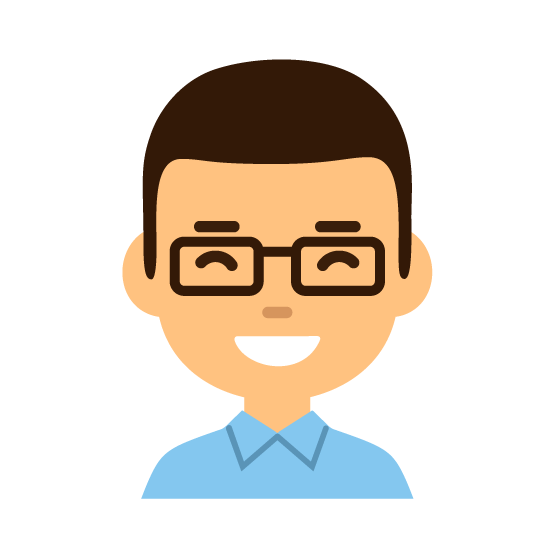 David Lee
David fell in love with finance at school and brings his passion to our team.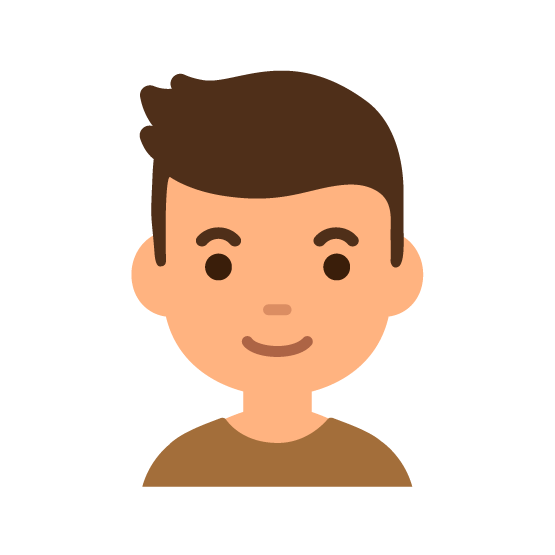 Andrew Rhee
Bringing over 10 years experience in Development, he has always loved all things development.
How It Works.
Get started with us in less than 10 seconds in 3 easy steps.
Creating an account takes less than 10 seconds.
Add your product to our simple to use backend inventory system
We will notify you when the product arrives and send out your shipment within 24-48 hours
Pricing for every business, at any stage
BASIC (500 unites a month)
$1.00
Per Item
Receiving
Inspection
Labeling
Poly Bagging
Sticker Removal
Fragile & Glass (additional charges may apply)
Bundling (additional charges may apply)
Pallets (additional charges may apply)
Returns and Removals
30 days free Inventory Storage
STANDARD (1500 units a month)
$0.90
Per Month
Receiving
Inspection
Labeling
Poly Bagging
Sticker Removal
Fragile & Glass (additional charges may apply)
Bundling (additional charges may apply)
Pallets (additional charges may apply)
Returns and Removals
30 days free Inventory Storage
PRO (4000+ units a month)
$0.80
Per Month
Receiving
Inspection
Labeling
Poly Bagging
Sticker Removal
Fragile & Glass (additional charges may apply)
Bundling (additional charges may apply)
Pallets (additional charges may apply)
Returns and Removals
30 days free Inventory Storage